The following article is based on a series of three messages or signs we received following my little brothers death on June 14, 2009. He was 29 years old.
Tim was killed in an off-duty gliding accident in Michigan, USA on his first flight in a glider on a trial flight. He was a passenger at the time. Tim was a helicopter pilot for an air ambulance company in Michigan at the time.
The first message we received was based on some words my Dad received in the middle of the night in answer to a prayer he had made two nights earlier. The second message was based upon two events that happened which directly related to Tim's life, and the third sign/message we received was based on a dream that our U.S. based lawyer had some 6 months after his death.
Message #1 - June 26, 2009:
The following message had its beginning two days earlier when Dad decided to ask God about Tim's final destiny. Tim was our youngest brother of five children.
By way of a background to the following story, Dad considered the two years he spent flying tourists into and out of Milford Sound and the Fiordland area with "Southern Scenic Air Services" between 1962-64, as the most enjoyable of his 40-year professional flying career. Milford Sound is served by road and air most of the time, however, the weather can and often does close it off to air travel, and in Winter, the road to Milford Sound can be closed due to snowfall. (View Pic) The road trip from Queenstown to Milford Sound takes around 4 hours. I will let him finish the story in his own words:
"That night I awoke in complete darkness (no window in my room) with a message in front of me that was typed on a strip of paper, which later on, I recognised as being similar to the 'fortune cookie' strip I had received the night previously. All it said, quite simply, was that 'The Road to Milford Sound is Open'.

I puzzled about this strange message, which had no resemblance to any thing I had dreamed that night - if in fact I had dreamed at all, so, well, it just puzzled me.........Then I thought about Milford Sound, where I had once spent several weeks at the Milford Hotel as it then was in the 1960s, at the time of the summer season where my job was to fly guests from the airstrip on various scenic flights or wherever they wished to go.

For the whole time I was there, the weather was absolutely perfect. I would get up early in the cool of the morning and make sure that my aircraft was ready to fly immediately after breakfast. 'The most beautiful scenic flights in the world' and similar claims - how people would declare the scenery at Milford Sound. As being 'out of this world.'

As early as 100 years ago, some described it as a 'Paradise.' With sudden amazement I translated the message as 'The road to Paradise is open'.

Turning over I looked at the illuminated alarm clock - only 3.32am! Suddenly it hit me - perhaps 10 minutes ago I had become aware of the strange message and this brought the time back to about 3.20 am. This was the time in NZ when Tim had died (instantly it seems) and in the U.S at that time it was 11.20am."
This would be the first of three messages we would receive from God about how Tim is.
Message #2 - December 2, 2009:
As I was driving home from the airport, I noticed what looked to be a motorbike just like Tim's. As I drove by I saw it was a Triumph Daytona, exactly the same bike that Tim had - an uncommon bike in a town of 6,000. I told Dad about it when I got home, and he went down and had a look at it. About half an hour later, when he drove into the driveway and had one foot out the door, we both looked up as a very low flying helicopter - lower than one had ever crossed the house before - flew directly over our house in drizzly weather.
As we walked inside, I told him, 'that was two things' that happened relating to Tim. He also told me that the motorbike had 32,000 km on it. I was 32 at the time. Later that night I came to the realisation that these two occurrences were a message from God. 'Don't worry, everything's okay'. And 99% of my sadness was lifted from me. And so it came to pass, one of the scriptures that was read out at the funeral, "Blessed are they that mourn: for they shall be comforted" - Matthew 5:4. God is good!
Nearly two years later on August 1, 2011, a thought came into Dad's mind in the middle of the night when he couldn't sleep, about the trajectory of the helicopter that flew over the house on Dec 2, 2009. In his words, "I was awake last night and thought of the time the heli. flew low over us and headed off on what I recalled as a Nth. Easterly direction more or less in direction of clock, i.e. heading 045. This calculator link gave it as more East, i.e. 065 for direct Alex. - Pinckney, and distance is displayed also, being about 14,500kms from memory. Just put in the lat. and long. co-ordinates between the towns and map and answer supplied."
http://www.movable-type.co.uk/scripts/latlong.html
Alexandra, N.Z.: 45.2492S , 169.3797E
Pinckney, USA: 42.4567N , 83.9464W
Distance:
14340

km

Initial bearing:
065°18'42"
Final bearing:
060°06'48"
Midpoint:
02°20'11"S, 135°28'53"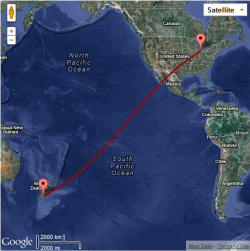 (Click to Enlarge)
And from a subsequent email: "I believe it is possible to fly a fixed heading all the way which actually takes a longer total ground distance. Used to know about it but of course never used it in my flying."
Tim was living in Pinckney, MI, USA, at the time of the accident, and was a helicopter pilot for MidWest MedFlight in Ann Arbor, MI. The direction of the helicopter was on a direct path from Alexandra, New Zealand, to Pinckney, USA. I was amazed when he told me - not only because of the uncovered meaning in the direction of the helicopter, but also that he'd thought of it at all, nearly 2 years later!
The real reason was this. Unbeknownst to Dad, I was beginning to have doubts as to whether these two "coincidences" were a message from God at all, and it was starting to disturb the peace that God had given me. But God knew. So God put it in Dad's mind to go and check on the direction of the helicopter, to show me that yes indeed, this was a true message from God, and it restored the peace that God had given me back on December 2, 2009.
So I plotted a line on Google Earth over the house in the direction that I thought the helicopter was travelling in, and it came out as 63 degrees, fairly similar to what he came up with from his own memory - in the general direction of the clock - nearly two years later. A direct line from the house to the 'clock on the hill' is about 72 degrees, not the 45 degrees as was his original rough guess. (View Pic)
This is the second of three messages we received from God about how Tim is.
Update: Apr 2, 2013: I decided to go up to the clock on the hill to verify some information in my timeline and drove up to the start of the walkway up to the clock. When I arrived, the time on my car clock said 12:50PM. This number became important to me as of early January 2011, and as early as December 24, 2009. I then drove down the road a bit further, and then drove back to the start of the walkway, getting out to start my walk up the hill with my GPS a few minutes later. The time on my GPS when I turned it on? 12:50PM. I guess the clock on the hill also read 12:50PM, but I didn't look up to it. This number wouldn't mean much to anyone else, but to me, it was a hand of God moment - a confirmation that I am going in the right direction. As if to tell me that He has His hands on all these things, and they were ordained by Him.
Message #3 - December 24, 2009: (Christmas Eve)
Received email from our U.S. lawyer about a dream she had about Tim (View Pic) the previous night. A Christmas message. She had never met Tim before and didn't know that he was an avid coffee buff who had taken coffee classes with his girlfriend, whose favourite website was a coffee website, and who was planning to roast his own coffee beans along with other things related to coffee!
Her Email:
"P.S. I had a dream about Tim last night! (It seemed so real). I saw a helicopter coming towards my house and I saw Tim wave to me, I waved back and he landed the helicopter in the field next to my house. He turned the helicopter off and joined a picnic I was having with alot of people that I didn't recognize. He sat down and seemed to know everyone there, he asked me for a cup of coffee, but as I was bringing it out my alarm clock went off! The dream seemed very real and special. He looked real happy, handsome, slender, healthy and very self assured. Was Tim a coffee drinker? I remember offering him an assortment of cold drinks (it was a hot day) and thinking that it was strange that he was the only one at the party who wanted a hot coffee)! Anyway, that was my dream, who knows where all this comes from!"
In a subsequent email she replied: "I almost didn't mention the coffee part of my dream, but I had this nagging feeling that there was some significance to it - probably so you'd know for sure that the message was from Tim. I can't believe he even visited a coffee website and took coffee classes!!!"
That concluded in total, 3 different messages we received from God in one way or another, about how Tim is! When he died, we didn't know what he believed, and although we found out he was attending church, and occasionally dragging his girlfriend and her kids along to church when they weren't feeling like going, we weren't really sure what his personal beliefs were. Nor do we know what he might have said to God in the last few moments of his life. So this gave us great comfort!
"And he said unto Jesus, Lord, remember me when thou comest into thy kingdom. And Jesus said unto him, Verily I say unto thee, To day shalt thou be with me in paradise." - Luke 23:42-43